Incident
This warning message has turned up in the Health Analyzer on a SharePoint 2013 OnPrem Server.
"Product / patch installation or server upgrade required"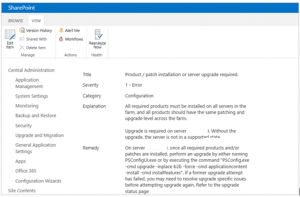 Finding the root cause
I opened the "Version history" to see when this message started to show up:

I also checked the "Database status" in "Upgrade and Migration" and found that the same message was displayed on all web applications in the server farm:

According to some articles out there, this can happen if a CU / patch is installed. Now this server is maintained by a host provider so it could of course have happened and they don't have in their routines that they must run the SharePoint Configuration Wizard after a CU or any other SharePoint related patch has been installed. Normally the security updates should not affect this, but this time it seems like these patches (Security Updates for Microsoft SharePoint Foundation 2013…) has caused the incompatibility as the warnings started coming after these were installed:

Solution
The solution was to complete the upgrade by either:
run the SharePoint Configuration Wizard
run the PowerShell command as stated in the above message
I decided to run the SharePoint Configuration Wizard and after quite a long time running the upgrade step, it gave me an error message first saying it could not start the User Profile service and then I got the Configuration Failed message. But no worries, it is because it could not start the ups service.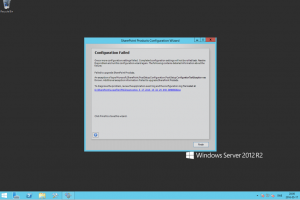 First I went back into the Health Analyzer and clicked the button "Reanalyze now" on the message and then it was gone. Also checked the "Upgrade and Migration" link, "Review database status" to see that the normal "No action needed" message was back on the databases. And it was, so the upgrade was indeed successful.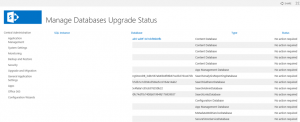 Went into "Services on server" and started the UPS service again.
Done.