Many times when you setup a document library (or a list) with lots of metadata columns, views, etc you want to save it as a template so that you can reuse that model on all other sites without having to do the same setup over and over. But if you go to the Settings of a modern site in SharePoint online you will not find a link to "Save list or library as template" anymore.
But there is of course a solution to this! 🙂
You must do 2 things 1) allow scripts to be run and 2) run a Powershell command
I tried this and it works just fine, you will see the link in the library settings when this is done. Super! The only thing to consider is the allow script-part. Read all about the security risks with enabling scripts here
If you feel that this is OKEY then go ahead and do the following:
Go to your SharePoint admin center (and you must be the Global admin to do that) in Classic mode (the new admin center does not have this option)
Click on "Settings" in the left side menu
There is a section there that is called "Custom script". Check the "Allow" box on "self-serviced sites" (or both)

Then run the following PowerShell command:
3 Set-SPOsite $SiteURL -DenyAddAndCustomizePages 0
Then you may have to wait for 24 hours before its deployed 🙂
Now when you go to a library (or list) settings you will see this link: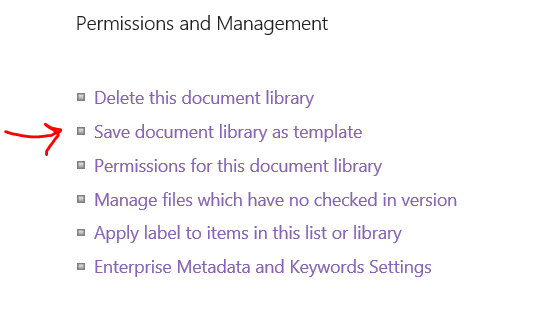 One more thing, when you want to add a new document library based on this template you must choose "Add an app", otherwise you will not see the list of templates (the gallery).