Here is my wrap up and highlights from the European SharePoint Conference held in Prague 2019.
First of all: Thank You to Tracy O'Connell, Shane Lyons, Ella Murphy and Kevin Monahan and all amazing crew at ESPC for yet another well organized conference! This is one of my absolute favorites!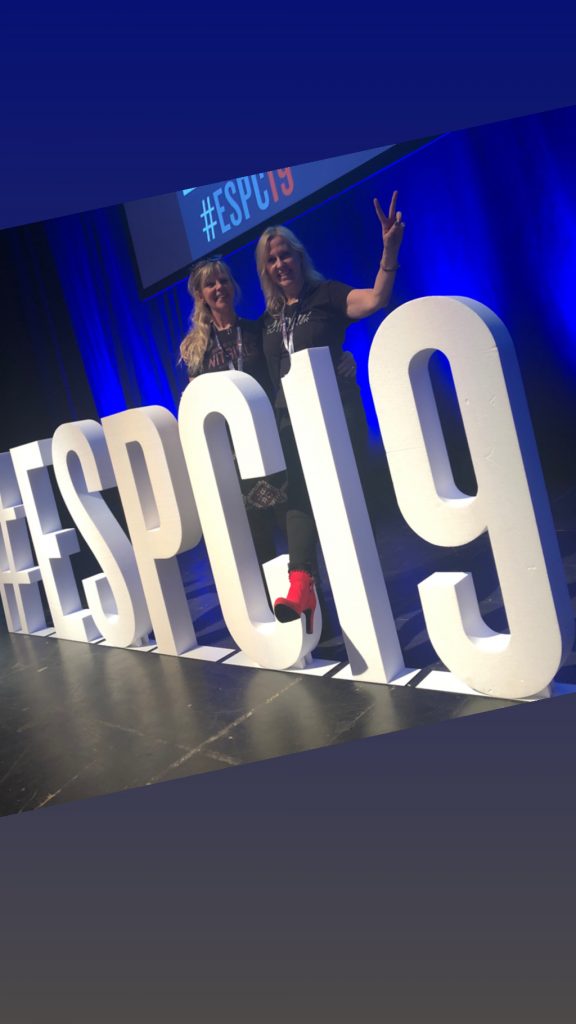 Some words about the hotel and conference center. The hotel was located next to the conference center which was good because we actually had to walk outdoors to get there, which is refreshing! 😀 Last year the hotel and conference was in the same building so I never went outdoors 🙂 The hotel has everything you need including excellent service and food, and I wrote a review on TripAdvisor. The conference center was on four floors and you run up and down between them to find the rooms your sessions are in. I had a bit of struggle to find them, but then there is always someone from the ESPC crew there to help and guide you with a big smile <3 One thing that was negative about the center was that some rooms were soooo hot and for me it lowers my energy. And also, why was it so dark where the presenters stood? They were hard to see and to take pics of ;( Other than that, everything was absolutely great.
The reason I want to attend ESPC is because of its focus on SharePoint. Of course they also cover OneDrive, Teams, PowerApps and Power Automate etc but for me this conference is where my <3 is which is SharePoint which should come to no surprise to anyone 🙂
We arrived on Monday and in the evening we went out in the city of Prague. We asked the hotel staff for a proper Czech restaurant and they suggested Lokal, so we went there. The restaurant was huge but very simplistic rustic design with wooden tables and benches, no clutter (love it!) and packed with people! They served beers on tap and Czech traditional food – super cool and very tasty!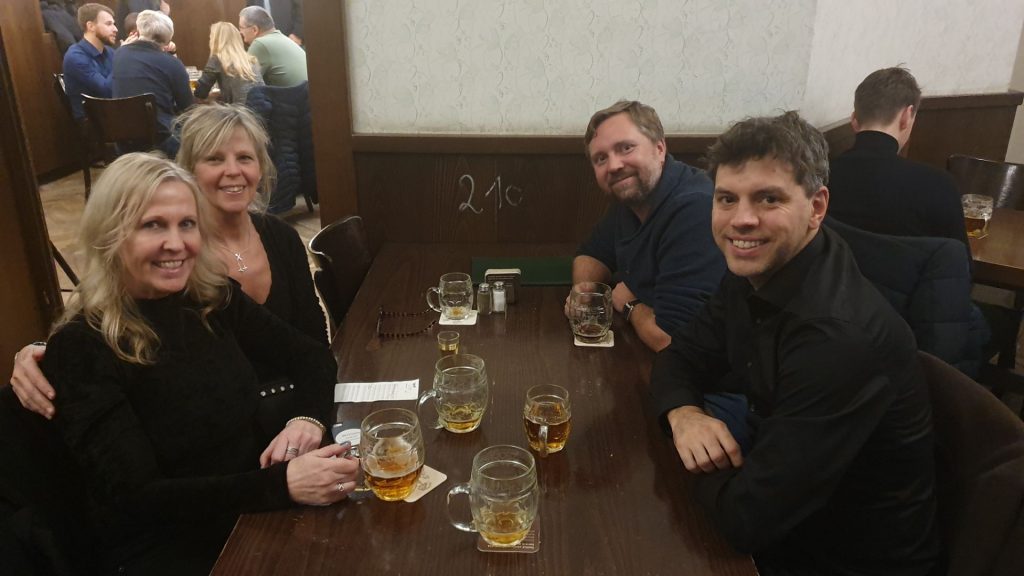 Tuesday morning it was time for the keynote with mr Jeff Teper, the Captain of SharePoint, OneDrive and Office <3 He was wearing his SharePoint green t-shirt and OneDrive shoes, how awesome is he! The keynote is packed with announcements, and I had heard most of them in the Ignite keynote but it's always cool to see it live! After 45 minutes it was announced that the Teams keynote was held in another room, so half the audience got up and left – in the middle of this keynote!! That was so weird and I felt sorry for the presenter on stage! It would have been better to let Karuana Gatimu do her keynote in the same auditorium because I think that could be interesting for everyone to see!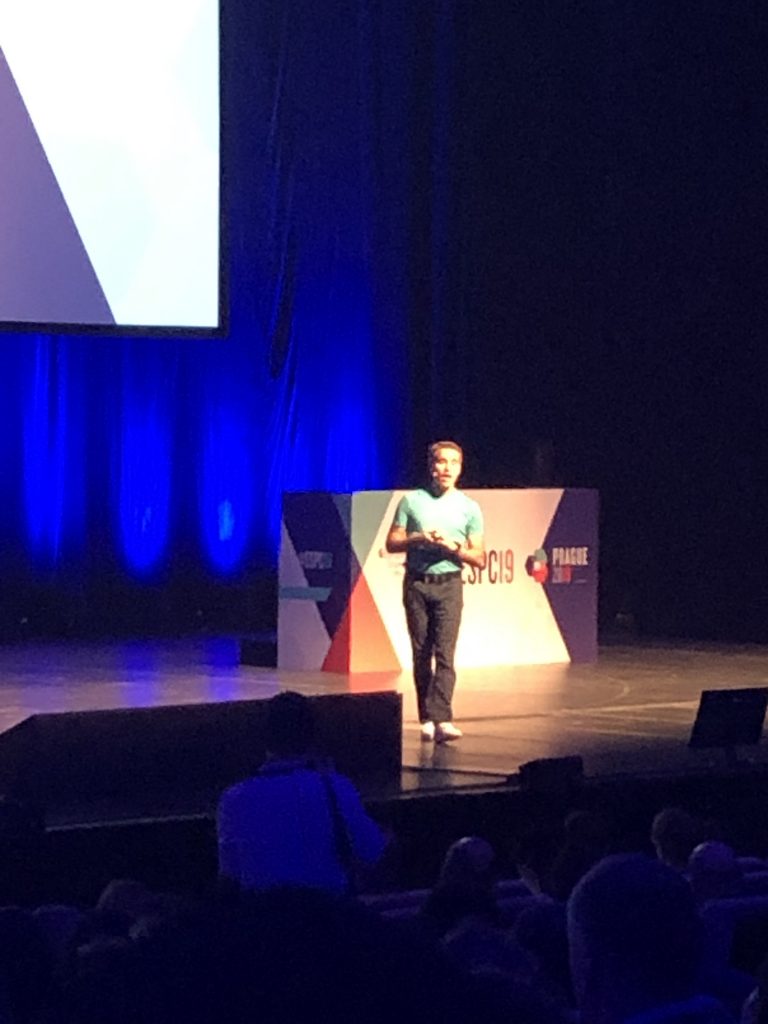 Karuana is such a charismatic person and a great presenter! She demoed things that we have already in Teams and also the news that's coming. Perfect, we need to be updated on what we actually HAVE and not only what's COMING! We have soo much cool stuff already. The room where she held the keynote was super hot, and fully packed! She asked "Who is using Teams" and I think almost everyone raised their hand:
Here are some of the breakout sessions I attended and a short review: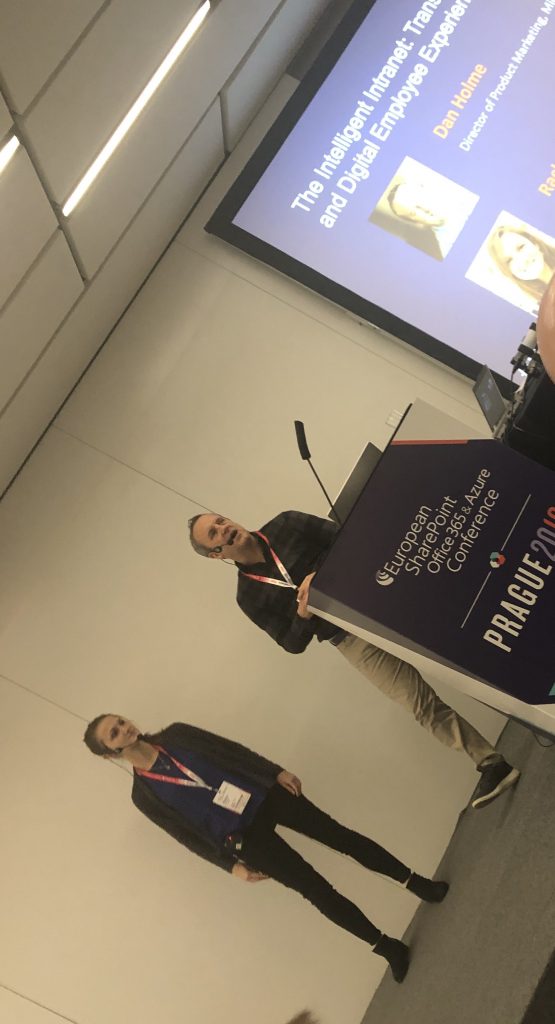 The intelligent intranet by Dan Holme and Rachel Lambert.
This was a session on how you can transform your intranet into a rich employee experience that's dynamic, personalised social and actionable. They did a lot of demos and in the middle of Rachels demo her computer wanted to do a windows update so ooops the screen was black and we had to wait for a few minutes for Dan to fix her computer! A perfect opportunity for questions so we fired away! I was interested in the branding options for the mega menu, through the UI and not just by script. Because I think it should follow the custom theme at least. Now its just black and white. But no news about that yet. Christina asked about the translation button that was visible on their page, coming soon some very cool translation options for your sites. Not sure when it comes for Swedish though. Because we want those controls in our native language of course. We follow this closely so for us there were not so many news, but it's always nice to see those demos. A tip is to visit the SharePoint look book, found at lookbook.microsoft.com You can now not only see different layout options, you can also add them directly to your tenant from that site and then modify them as you wish.
Project Cortex by Adam Harmetz and Sean Squire
Wow this was something extra that is one of the biggest announcements this year and also the biggest application since Teams! This is the new intelligent content services using AI and machine teaching to gather information through the entire Microsoft 365 platform and rolling it up on a SharePoint Content center site. Phew, I hope I got that right now! The name of that site template is subject to change but that was the working name now. They showed how you upload documents (for instance invoices) into the content center site and then using a model that learns how the documents are tagged so that when you upload similar documents they will be auto tagged. This is hard to explain when you have not worked with it yourself yet, but it looked really cool when they had published the model and then uploaded documents into a library and boom the metadata was automagically added into the columns. Metadata is KING! Then they showed the Topic cards, which means that when you hover an acronym in outlook or anywhere, a topic card is shown and that will display the meaning or the acronym, documents related and people related (all coming from the graph). So this will be your knowledge network built on metadata coming from your tenant. Super excited to see this next year!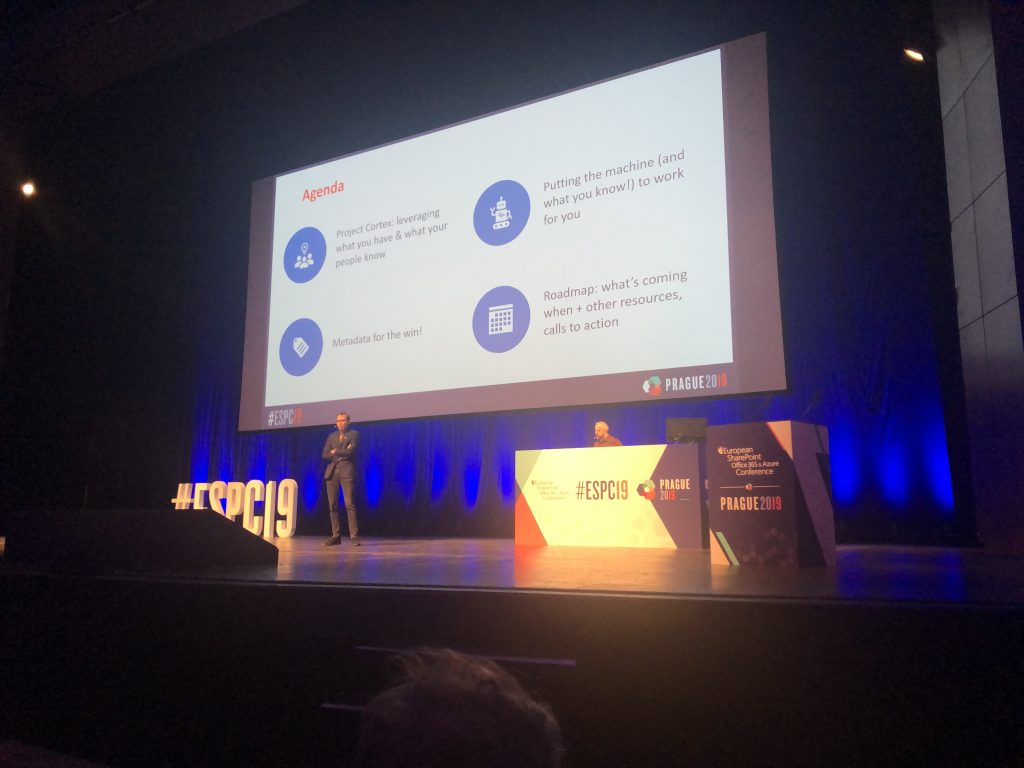 Powershell for O365 with Vlad Catrinescu
Do we love this guy or what! His session on PowerShell is one of my absolute favorites! I was tired because it was early morning and we had been out partying in Prague the night before, but this man woke me up! With his sense of humor and super energy! He loves to demo also, which I really enjoy! Lots of practical cmdlets brought back home so thank you very much Vlad!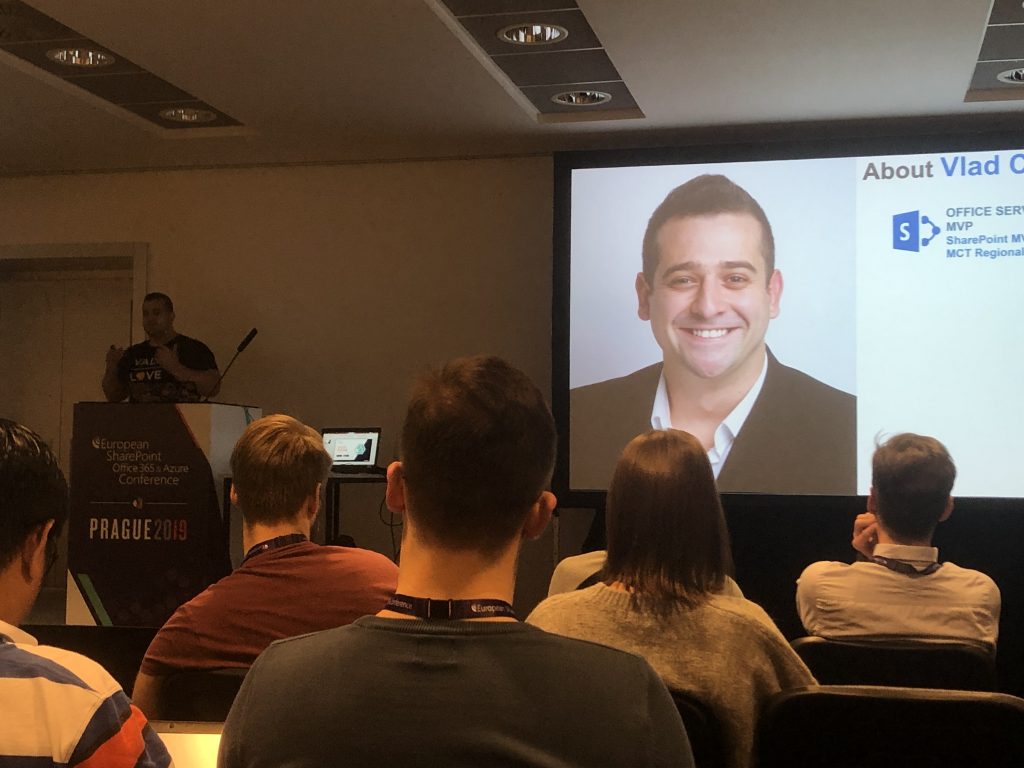 Planning Navigation for Your Intranet, Hubs and Sites by Susan Hanley
I ended the Wednesday with this great session by Susan. I agreed on everything she said about how you should organize the menus, and how you should setup the mega menu. So the top level should not have upper case, that looks bad, but it's good to use upper case for your headers on level 2, because they are used for grouping the links and if it is upper case you just know that you don't click them, they are not linked to any content. The links on the third level should have useful labels, not be too many, ad avoid links like "More…" or "Other". And I have in fact seen large intranets with "more…" and I don't think anyone ever clicks those links. You need to use the menus to guide and help the users find information, not confuse them. She also mentioned that the global navigation might be removed, or at least it's being discussed. I totally like that because I always remove Site contents, and the Document and Pages links because I don think they bring any value. I use the mega menu and Hero web part to promote content instead. Susan is fun to listen to and very experienced, she knows her stuff and its always interesting to hear her take on information structure!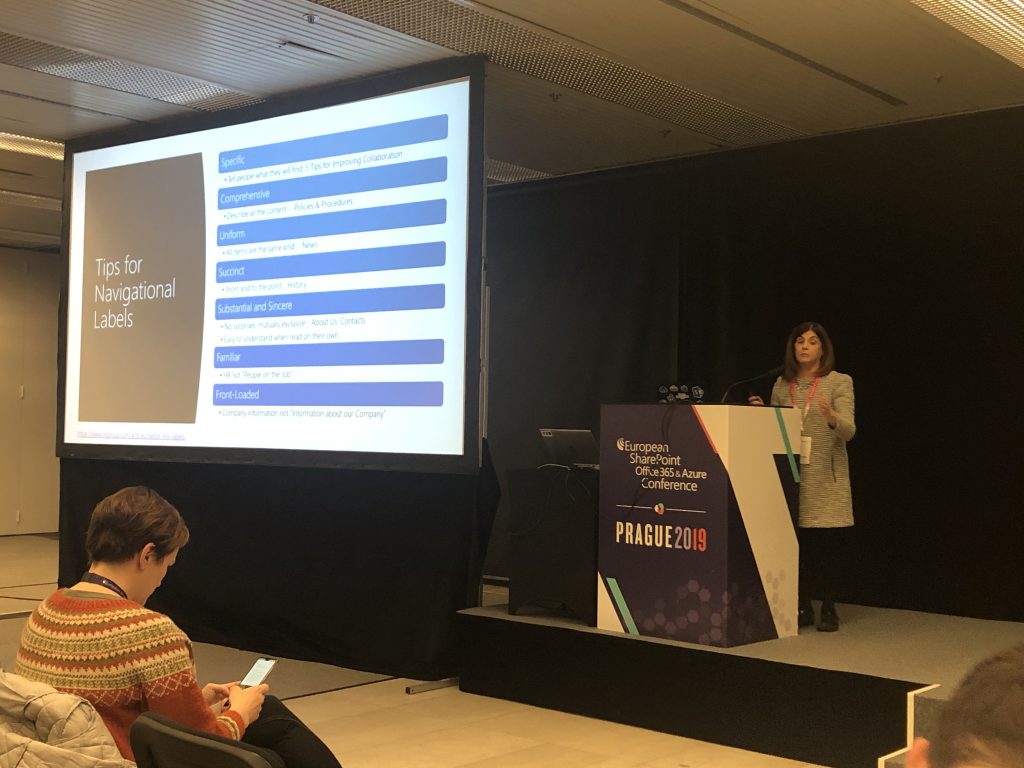 Each year ESPC arranges a Women In Tech lunch. This year it was hosted by gorgeous Miri Rodriguez who is a storyteller and head of internships at Microsoft. This lunch is always sooo cozy with set tables, food served at the table, flowers and candles and lots of awesome people! I was a bit star struck sitting next to Heather Newman, Karuana, Tracy Schyff, Tracy O'Connell, Susan and more. Wow!! And then Miri told her story in a very empathic, honest and engaging way which really moved me and was such an inspiration ? . You can listen to our latest episode of WITGirls podcast to hear more!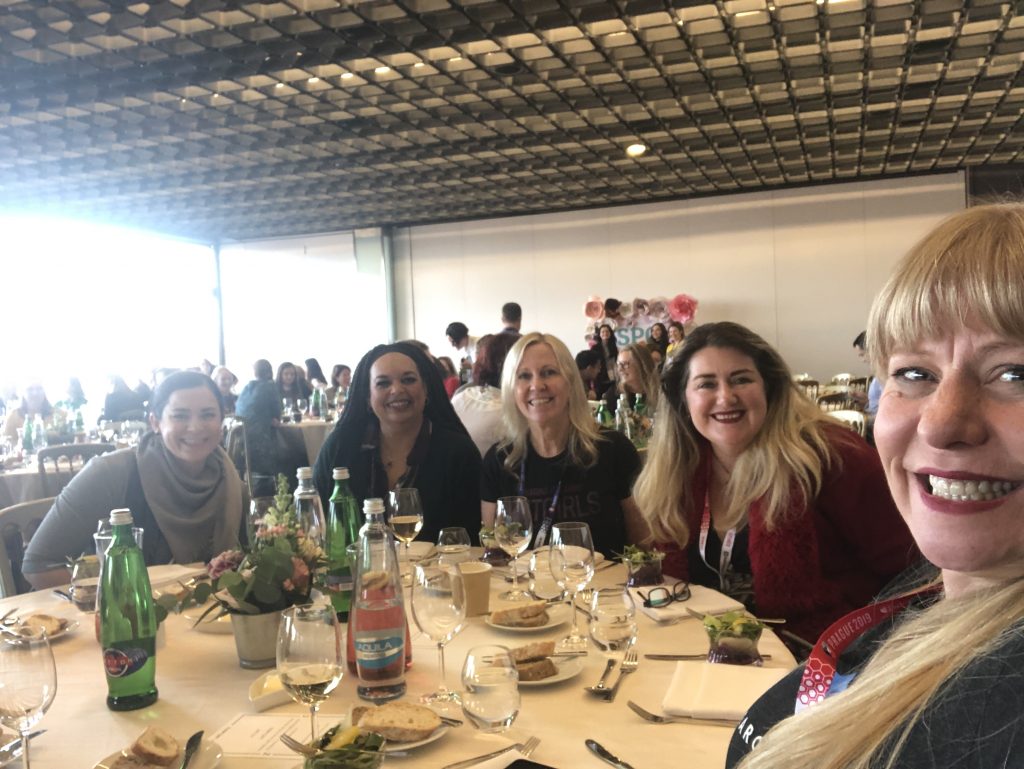 Vesa Juvonens keynote about developing solutions on the Microsoft 365 platform
They showed cool demos of apps built using the graph and he also had Jeremy Thake and more on stage. This is not my territories so I will not reference to much on what they said, because someone might get upset with me for incorrect information… But, I am super interested to learn more. Laura Kokkarinen showed site scripts and that I have done myself so that was more easy to follow. Very cool demos all!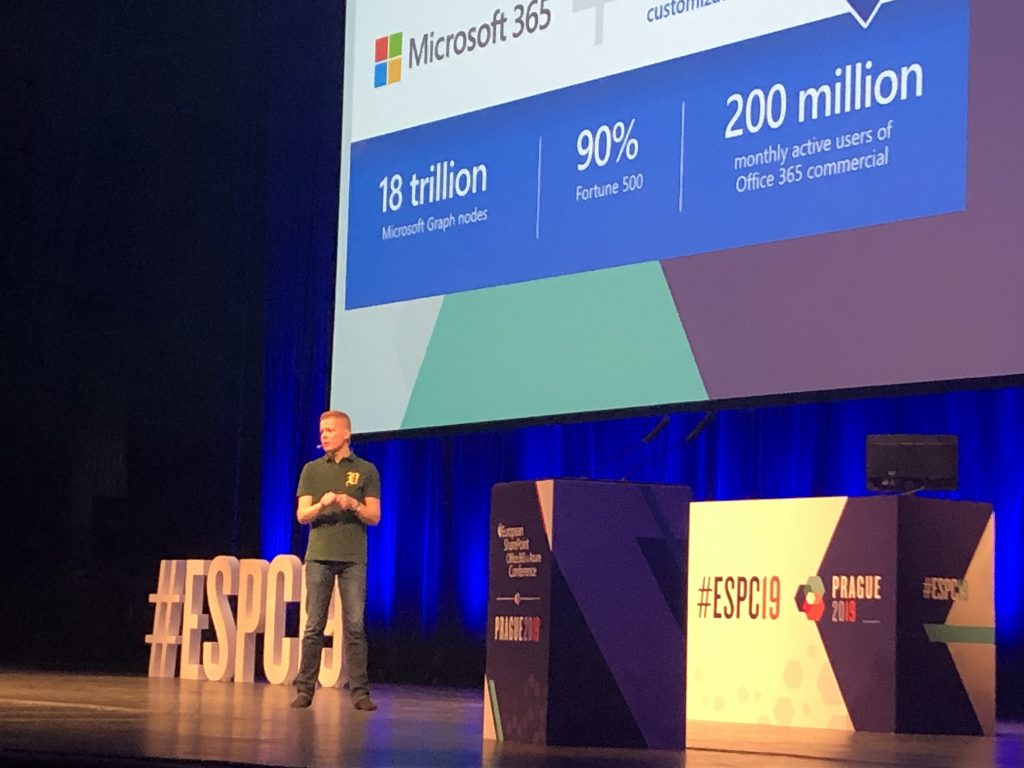 I debuted as a Community Reporter, which was so much fun!! Thanks to Christian Buckley for having me! Unfortunately I did not have time to interview anyone as I was attending sessions all day. But I made it to the wrap up on day 3, so below is my debut next to pro's like Erica Toelle and Jeff Willinger!! ?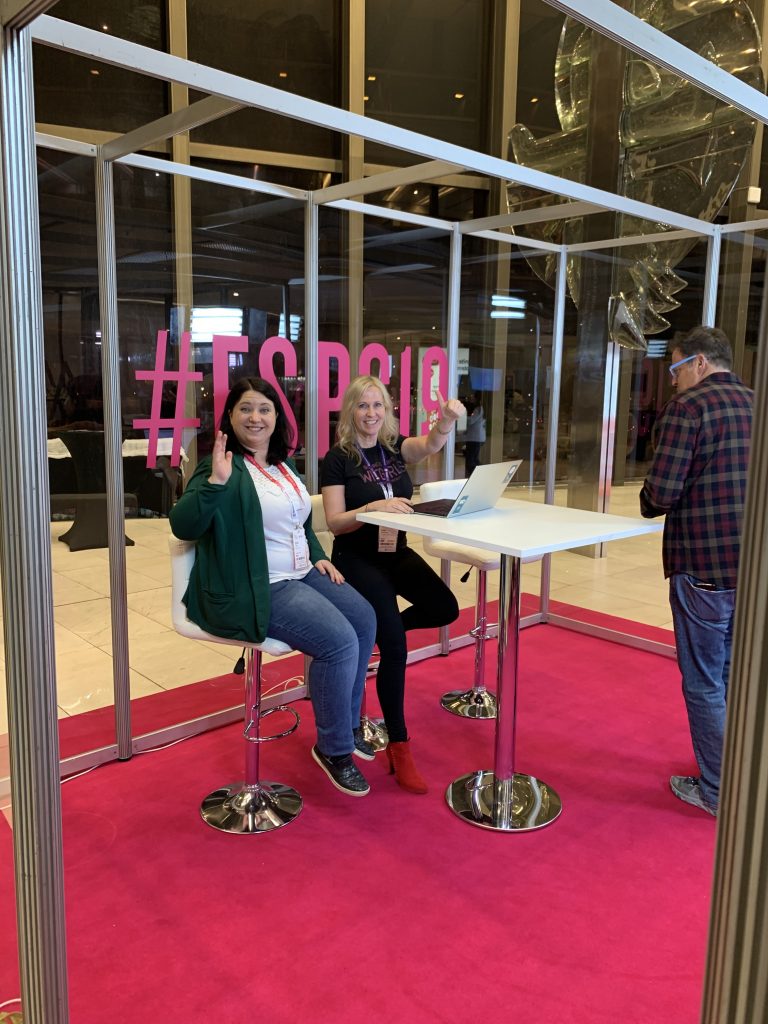 Last but not least… the ESPC Party at SaSaZu club!!
We had so much fun at the club, and this movie is some clips from the performance that was held there. How strong are they!! How confident is she!! Blown away by this group! And then there was a DJ and we all danced til our feet hurt… And next afternoon we were heading home. My head was full of new information and knowledge and my heart warm from all the people we met and had fun with!
They did not announce where this conference will be held next year, but I am definitely going! And maybe I will submit to be a speaker, there were some sessions missing lol. Cheers! #CommunityRocks #SharingIsCaring